canyoning guides:
crazy about canyons, serious about people
Three grand essentials to happiness in this life are; something to do, something to love, and something to hope for. Turns out that we found canyoning to be the answer to all of them.

And ...
"if you think adventure is dangerous, try routine, it is lethal!"
once said Paulo Coelho.
canyoning challenge guides
"When people book with Canyoning Challenge,
they do not just simply buy a radnom canyoning trip, but…
they take a step further in transforming their lives into an unforgettable adventure.
They consciously decide to accept and take calculated risks.
They willingly expose themselves to danger and adversity.
They courageously overcome an intense fear.
And, they experience how it is to trust someone with their life.
- Matej
"Yeah ... I just fact-checked what Matej said and it's true ... true."
- Roman
"That's deep man, deep ...
- Jakob
"You guys just forgot about tons of fun and thrill they experience, huh?
!"
- Blažka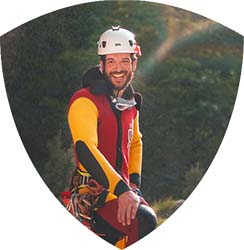 MATEJ
White water rescue instructor and head canyoning guide at Canyoning Challenge. Jack-of-all-trades and a family guy as well, enjoying Soča valley adventures with his three boys. When he is not canyoning, Matej likes to spend time delving into the world of team building and leadership development.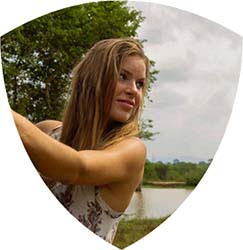 BLAŽKA
This woman will knock your socks off. Puff!
No, seriously, Blažka is very energetic canyoning guide. She goes on every single training course that she can find and just can't wait to share her enthusiasm with you!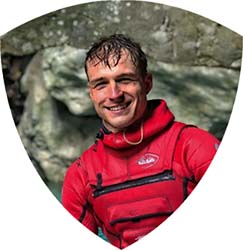 ROMAN
Roman is our Czech friend who fell in love with Soča valley and says he will stay here forever. He is a passionate canyoning guide and enjoys guiding on all different levels. But most of all he prefers discovering new canyons in Italy. We all know where he's gone if he does not answer the phone.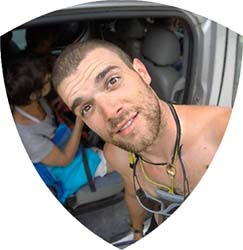 JAKOB
Jakob, Matej's dear cousin, is a mountain rescuer and a skilled rope access worker, as well as a father of two young boys.
As an experienced rafting guide, he can also take you on the Soča river if you desire to challenge its rapids.
Some of the institutions we had the pleasure to learn from

WATERFALL / ROPE
It is all about ropes and waterfalls when canyoning in Slovenia, yes. But one of the symbolic meanings of a waterfall is also 'change' or 'transformation' – the form stays the same, while it's substance changes.
The same should be with us!
"Act that each tomorrow finds us farther than today."
– H. W. Longfellow SHIELD
A shield symbolises protection and safety. It has three sides – just enough to represent the main three values that a competent guide needs:
– CONSTANT TRAINING
– EXPERIENCE
– GOOD JUDGEMENT

FIGURE-8
It is a classic canyoning descending device. When you see it, you think - canyoning! - which is always a great adventure. And that's what we want - a life full of adventures - a life of meaning. HAVE NO FEAR, BE A CANYONEER
ALMOST THERE!
THERE ARE ONLY 3 WAYS TO WET SOMEBODY'S PANTS!
Do you know how?
Fill in the answers below. If you get it right, you are in for a treat!